EASA Part 21J Establish development and certification competence
AeroImpulse – Your competent partner for development-based QM systems in the aerospace supply industry
Certification specifications, classification of development projects, critical review items (CRIs), configuration management, verification, DAL level, compliance document, MoC, STC: these are just a few of the topics that aviation development engineers are confronted with – with or without EASA Part 21J certification. In addition, there are numerous documents that almost everyone knows or has heard of, but whose application causes problems in practice. Besides the building codes themselves, these are mostly RTCA DO 178, RTCA DO 160 and DO 256, SAE ARP 4671, FAR 25.1309, MOPS.
This is the environment in which you want to learn,
Understand the flow of the development process,
Correctly identify and interpret building codes and their AMC,
derive the correct detection method (MoC),
Perform tests in compliance with EASA and meet test documentation requirements,
discuss concrete operational issues and admission problems and find solutions.
Our EASA Part 21J training focuses on the Part 21 and the certification process after an introduction, knowledge refresher or basic transfer to the EASA world. The specifics of Repair Approvals, Minor Changes, and Component Development follow. On a second day, there is the opportunity to delve deeply into verification and dealing with building codes and other verification requirements.
Legal and regulatory requirements according to EASA Part 21
Organizational requirements for aerospace component developers,
Certification process for aeronautical components, incl. Supporting processes
Safety Management,
Special features of small developments and repair approvals
Classification of development projects,
Introduction to EASA construction regulations and verification:

European and international building regulations
Working with Certification Specification (usually CS-25)
Showing of compliance, working with the MoC
Basics of Safety Assessment

Interpretation of the building regulations and selection of the verification method
Interaction between design organization and manufacturing and maintenance organization
The seminar is designed for employees in development for aeronautical products as well as construction and equipment parts who want to or have to deal with the specific requirements of our industry. Previous knowledge is not mandatory, but a basic knowledge of aeronautical development is advantageous. Our training on Part 21J and component development is aimed at the following target groups:
Engineers and designers
Development operational managers
Other development-related employees
Methodically, it is classroom training, which is enriched by numerous practical examples as well as exercises and discussions. A special focus is directed at the typical weak points of daily practice. From experience, our Part 21J training courses contain a high practical component through input the input of the participants. In in-house training courses, we can deal in detail with operational issues and your specific development and approval questions and work out specific solutions. There is ample room for discussion on this. This is how many trainings develop into workshops.
Usually 2 days (according to customer demand)
If desired, the training is followed by a knowledge test in which the achievement of the learning objective is tested and proven. After the EASA Part 21J training / workshops on component development, you will receive a certificate from us that you can use as proof of training for the authorities.
We help you to build up the necessary expert knowledge
You need an aeronautical certification?
With our EASA Part 21J training or component development training, we qualify engineers, designers, their managers and other development-relevant personnel. Our training courses focus on the preparation, implementation and documentation of development projects in accordance with EASA Part 21J and EN 9100:2018. You will learn to identify and correctly interpret construction regulations and other component qualification specifications and to document test results appropriately. Translated with www.DeepL.com/Translator (free version)
Through the professional exchange of experiences with our experienced trainers, practice-oriented case studies as well as concrete questions from your company, you will gain the necessary expert knowledge to develop according to aeronautical standards. To do this, we come to your company and train the staff.
Are you already familiar with e-learning on EASA Part 21?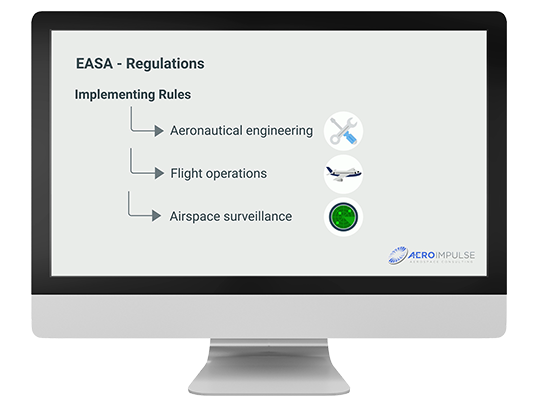 E-Learning for EASA Part 21J
Video animated clips with voice over
Automatic certificate sending after successful test
Incl. handout with the most important content
in German and English
Do you know our other trainings?
We offer you trainings which are individually adapted to the requirements of your company.
EN 9100 Trainings?
You want to know more about…
E-Learnings for the
EASA Part 21J?
You want to know more about…
E-Learning for EASA Safety Management?
You want to know more about…
Do you already know our books on technical aviation management?