FOD Training ONLINE - Dealing with foreign object hazards
Multimedia e-learning for employees in aviation on foreign object debris (FOD) prevention according to EN 9146:2019.
Digital Training for
Prevention of Foreign Objects (FOD)
FOD training is considered mandatory in the aviation industry via EASA requirements, EN 9146:2019 and Airbus Supplier Requirements (ASR). Not only production employees, but also administrative staff and managers shall develop an awareness of the dangers of foreign objects.
Our high-quality web-based FOD training is for EASA Part 21G Production Organisations, EASA Part 145 Maintenance Organisations, and suppliers with EN 9100 certification. The trainings explains in video-animated clips the requirements for operational foreign object prevention (FOD) programs.
With our web-based FOD training, you create flexibility through free time allocation and reduced working time efforts compared to classroom training due to compressed content. You can also define the content yourself from our chapter pool.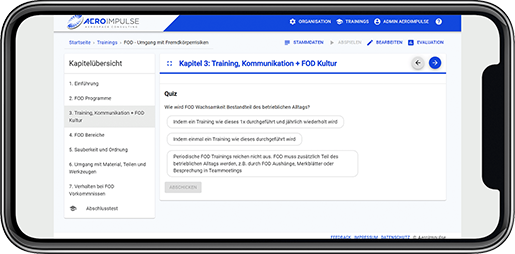 Core data
Duration approx. 45 min,
Simply press play, video-animierted E-Learning with professional voice-over
Participants receive their certificate automatically after successfull multiple choice test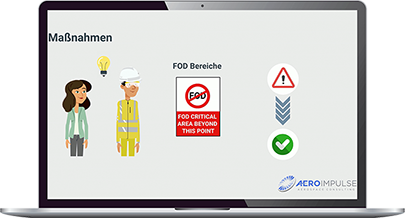 Target group
Employees in production
All admin staff accessing production areas
Subcontractors and visitors entering production areas
For new employees and as continuation training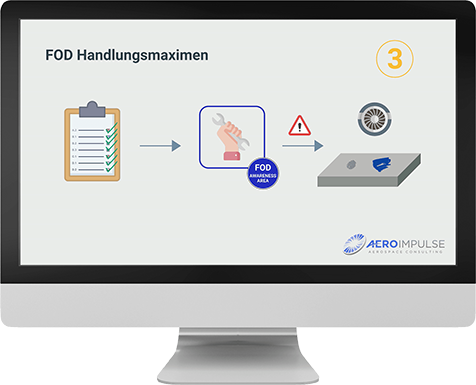 Goals
Basic knowledge of the requirements of EN 9146 requirements as well as EASA and ASR.
Awareness of product safety and the hazards of foreign objects (FOD)
Reduction of foreign objects damage
Saving work time compared to classroom training
You are interested in our online FOD training?
For more information or to obtain a non-binding quote incl. volume discount, contact:
To the contact form
Our FOD e-learning on foreign object prevention explains all the important requirements of EN 9146:2019 as wel as EASA specifications.
This e-learning is particularly suitable for refreshers or for preparing other seminars and trainings.
FOD Introduction
Regulatory requirements
FOD Programs
Trainings and FOD culture
Definition of FOD areas
Cleanliness and tidiness
Product protection
Control of material+tools
Measures in case of FOD incident
Reporting of FOD risks
Here's what our training participants say:
It was sliced in correct size to keep the attention.
Very clean flow, easy to follow and learn.
I think this animated course was better than having a virtual training via Zoom, Teams, ..
The pacing of how the presentation is spoken is just right and the words are clear. The examples used also go well with what has just been explained.
The animations make the training easy on the eyes and not just full of text to read.
More trainings from our portfolio
Human Factors
Classroom Training?
Do you already know about our…
EASA Part 21J
Classroom Training?
Do you already know about our…
EN9100: 2018
Classroom Training?
Do you already know about our…
Do you already know our books on technical aviation management?