Human Factors Training ONLINE
Multimedia E-Learning for maintenance acc. EASA Part 145 or Part CAMO – Incl. new Safety Management. Also suitable for production and design.
Modern
Human Factors E-Learning
Human factors training courses are mandatory in the aviation industry. They are designed to strengthen employees awareness for the human factors. The focus is on the limitations of human performance and the hazards of human errors.
Our high quality Web Based Human Factors Training is focused on at maintenance in aviation and CAMO organisations as well as for aeronautical design and production. The video-animated online training cosniders all requirements of
GM1 145.A.30(e)
and
GM2 CAMO.A.305(g)
. It is therefore suitable for EASA Part 145 and Part CAMO as well as for Part 21/J and 21/G.
Our human factors e-learning is also suitable for companies beyond the aviation industry.
With our web-based training, you create flexibility through free time allocation and reduced time resources compared to classroom training due to compressed content transfer. You can also define the content yourself from our chapter pool.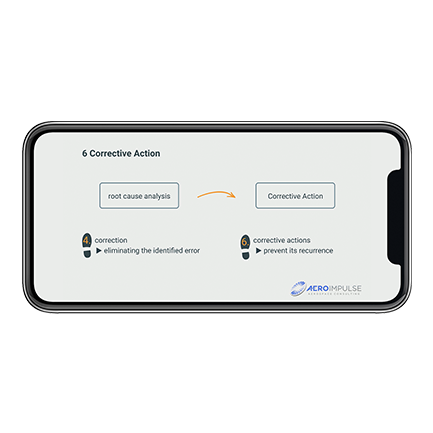 Core data
Duration up to 280 min, approx. 120 min (Refresher)
Simply press play, video-animierted E-Learning with professional voice-over
Automatic certificate sending after successful test
Incl. handout with the most important content
Equivalent to 2 days of face-to-face training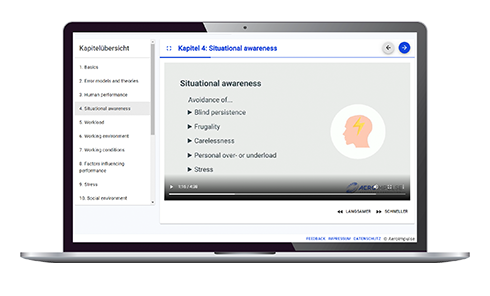 Target group
Employees in the aerospace supply industry
Also suitable for employees of other industries
Specialists and managers from administration and production
For new employees and as continuation training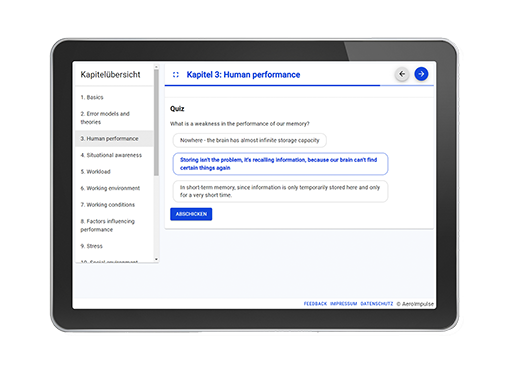 Structure
Contents take into account all aviation regulations of EASA Part 145 –

GM1 145.A.30(e)

Suitable as initial or refresher training due to modular structure
Multiple choice final test with 24 questions from a large question pool
Saving working time compared to 1-day face-to-face trainings
Max. effectiveness as blended learning with our face-to-face trainings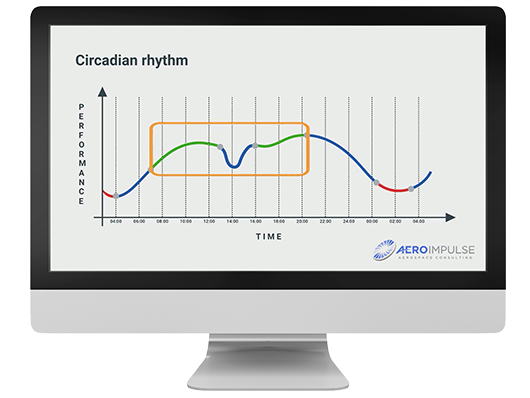 Goals
Basic theoretical knowledge of EASA Safety Management, well as practical examples, tips & tricks.
Awareness for quality and safety in aeronautical production
Self-reflection, resulting in fewer errors and lower error costs
Compliance with aviation legislation
You are interested in our Human Factors Training ONLINE?
For more information or to obtain a non-binding quote incl. volume discount, contact:
To the contact form
Our Human Factors Training ONLINE contain all requirements of aviation legislation according to EASA Part 145 –
GM1 145.A.30(e)
and Part CAMO –
GM2 CAMO.A.305(g)
incl. new SMS requirements (see italic elements in the list on the right hand site)
Due to the modular structure, you can also configure your own training. This approach is particularly suitable for refreshers or for preparing other seminars and trainings.
Basics
Error models and theories
Human performance
Situational awareness
Workload
Work environment
Working conditions
Factors influencing human performance
Stress
Social environment
Communication
Teamwork
Leadership
Decision making
Conflict Management
Identification and avoiding hazards
Basics of SMS
Operational Safety Management
Safety Risk Management
Occurrence Reporting
Safety Communication and Safety Culture
Dealing with errors
10 Safety Rules
Here's what our training participants say:
Kudos to the team for making such a helpful and insightful training.
This training is really well prepared and quite helpful also for other parts in life and not just in a working environment.
I think this animated course was better than having a virtual training via Zoom, Teams, ..
The pacing of how the presentation is spoken is just right and the words are clear.
The animations make the training easy on the eyes and not just full of text to read.
More trainings from our portfolio
Human Factors
Classroom Training?
Do you already know about our…
EASA Part 21J
Classroom Training?
Do you already know about our…
EN9100: 2018
Classroom Training?
Do you already know about our…
Do you already know our books on technical aviation management?