EN 9100 Training - ONLINE Compact information about the aerospace standard.
Multimedia e-learning on the aerospace standard EN 9100:2018 for beginners as well as specialists and managers. To the point – the most important facts about the standard in approx. 3 hours.
Digital Learning
for EN 9100
EN 9100 is mandatory entry ticket for the aviation supply chain. This e-learning is designed to help industry personnel understand the standard's requirements and the relationships between individual requirements.
Our high-quality web-based training is for employees of facilities with EN 9100 certification, explaining in video-animated clips key standard requirements such as something on the risk-based approach, process measurement, counterfeit parts, and supplier control.
With our web-based training, you create flexibility through free time allocation and reduced time resources compared to classroom training due to compressed content transfer.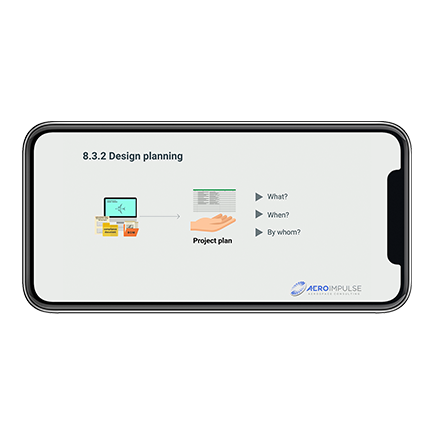 Core data
Duration approx. 180 min
Simply press play, video-animierted E-Learning with professional voice-over
Automatic certificate sending after successful test
Incl. handout with the most important content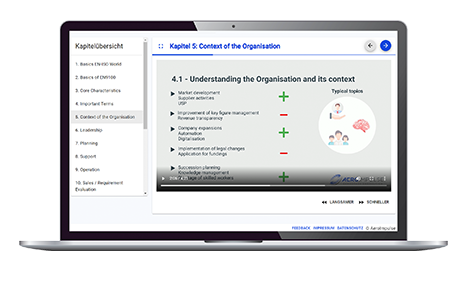 Target group
Newcomers to the EN 9100 world
Employees of companies with EN 9100 certification
Specialists and managers
For new employees and as continuation training
Employees of civil and military aviation authorities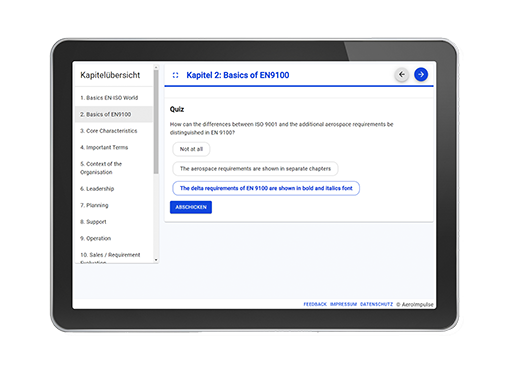 Structure
Suitable as initial or refresher training
Structure analogous to the structure of the aviation standard
Multiple choice final test with 24 questions from a large question pool
Saving working time compared to 1-day face-to-face trainings
Max. effectiveness as blended learning with our face-to-face trainings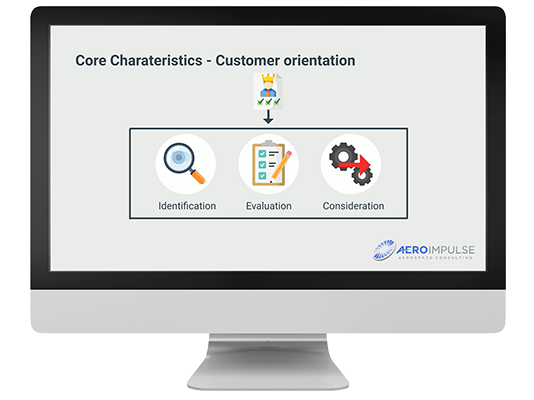 Goals
Knowledge of the structure, characteristics and objectives of EN 9100
Understanding of the requirements of the standard
Understanding of basic requirements for customer orientation, process orientation and risk-based approach
Development of a quality awareness in the sense of the standard
You are interested in our EN 9100 Training ONLINE?
For more information or to obtain a non-binding quote incl. volume discount, contact:
To the contact form
Our online training DIN EN 9100:2018 covers all requirements of the aviation standard.
Our e-learning is based exactly on the structure of EN 9100 You receive compressed knowledge transfer, with easy language and appealing visualization.
Introduction to the ISO 9000 series
Basics of EN 9100
Important features of the aviation standard
Context of the organization
Leadership
Planning
Support
Operation
Performance evaluation
Improvement
Here's what our training participants say:
Clear explanation & visualization. Many thanks for this e-learning training course.
Very interesting course with many new points. Many thanks.
Good course with clear explanations & examples. Many thanks for it.
Very practical & useful course. Many thanks.
Nicely done! Easy and comprehensive.
More trainings from our portfolio
Human Factors
Classroom Training?
Do you already know about our…
EASA Part 21J
Classroom Training?
Do you already know about our…
EN9100: 2018
Classroom Training?
Do you already know about our…
Do you already know our books on technical aviation management?