Implementation guide
Set up – We support you during the initial certification process
Consulting
Speed up – We optimize your processes
Auditing
Check up – Check your organization
Trainings
Step up – Digitalize corporate learning
Complete solutions around aviation standards
Where we help
We support companies that have opted for certification according to the aerospace standards AS/EN 9100:2018 or EN 9120:2018 for distributors. In addition, we conduct second-party audits prior to re-certifications so you go into that audit with confidence. To this end, we have in-depth expertise in setting up standard-compliant and audit-proof quality management systems in the aerospace industry.
Our competences
When it comes to consulting, training or auditing for aviation standards, we are among the most competent contacts. In addition, we support you as an auditor in carrying out internal audits or external supplier audits. With authenticated EN 9100 auditors, we perform first and/or second party audits competently with objectivity as well as with a sense of proportion and realism.
What are your challenges?
The EN 9100 series of standards for the aerospace industry and defense have grown rapidly in importance since their publication. The trend will continue in the industry because the major aviation groups will continue to try to minimize the monitoring effort at their suppliers. This is done by requiring them to prove their quality capability themselves by means of AS 9100 / EN 9100 or AS 9120 / EN 9120 certification.
Build up knowledge of standards
If your company has chosen to be certified to the EN 9100 series, you will face some typical industry quality management challenges prior to implementation. These are, in key words: Build standards knowledge and develop standards understanding, systematically align the context of the organization, identify audit and auditor requirements, and train staff on the standard, certification, and audit.
Interpret the EN 9100:2018
The language of EN 9100:2018 and EN 9120:2018 is wooden, as with all industry standards, and not always easy for the layperson to understand. There is also the question of how to implement the requirements. What does the standard expect from us? AeroImpulse translates the requirements of the aviation standard into the language of everyday operations and helps you to find the right measure, e.g. in the areas of KPI-based process orientation, configuration management or risk-based thinking and risk management.
Learn how we proceed with an EN9100 certification
I.
Determination of the status quo
As-is analysis of the QM system, determination of delta requirements, GAP analysis incl. Reporting, follow-up workshop, project planning
II.
Systematic implementation
Establishing a process model and KPIs, upgrade QM documentation, tools and methods, motto: as little as possible, as much as necessary
III.
Final sprint
Final certification preparation, system / conformity check, internal audit, management review.
IV.
Optional:
Conclusion
Monitoring of the two certification audits, assistance with closing audit finding
Do you already know our
EN 9100 checklist?
Estimate now the effort of an introduction of the EN 9100 / AS 9100 or EN 9120 /AS 9120 certification in your company – with the help of the checklist of AeroImpulse!
Sign up for our newsletter and you will receive a link to the checklist.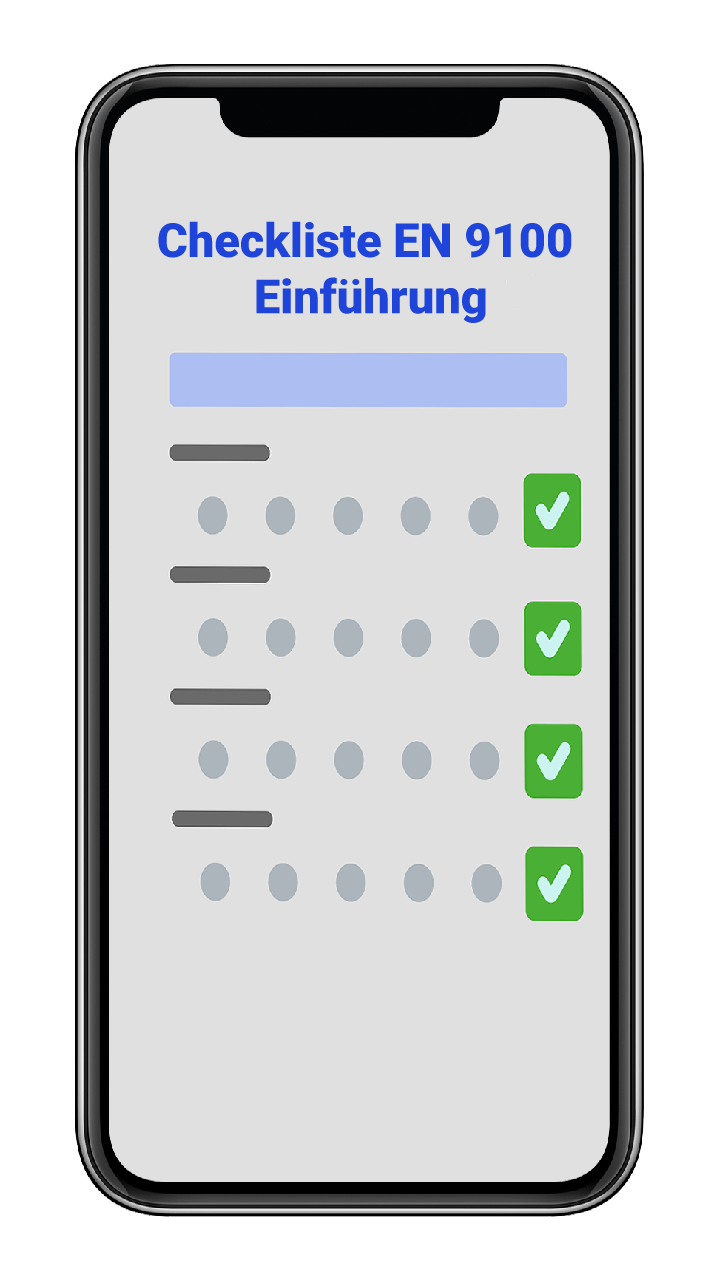 Do you know our trainings?
We offer you trainings which are individually adapted to the requirements of your company.
EN 9100 Trainings?
You want to know more about…
Aviation auditor training?
You want to know more about…
Human Factors Trainings?
You want to know more about…
We get you safely through the certification audit
Do you need aviation certification?
Tailored Consulting
No matter whether you are only aiming for a certificate or whether you want to establish a holistic quality management system. We support you in obtaining certification in accordance with the EN 9100 series of standards – regardless of whether your company is active in the aerospace or defense industry or is just starting out in this field.
We develop not only individual QM-tools, but also tailor-tailored consulting solutions. Depending on your requirements, we are your coach, your permanent implementation companion or your responsible implementer for the targeted QM system according to EN 9100:2018 or EN 9120:2018.
Benefit from comprehensive know-how transfer – our cooperation is always qualification and training in the area of EN 9100 standard knowledge, quality management and methodological competence.
Optimal preparation
We know the industry, we know the EN 9100 standards and we know the requirements of aviation auditors.
Our customers benefit from our industry and standards expertise in a unique way: through years of project and certification experience, in-depth methodological knowledge, IAQG know-how and practical knowledge gained from certification audits. Therefore, we prepare you audit-proof for the EN certification with consulting and training. Practice-oriented with a sense of proportion and realism.
We have comprehensive knowledge along the entire process of certification according to  EN 9100 and EN 9120. Incidentally, this also applies to the American AS 9100 and the Japanese JISQ 9100.
Safely through the audit
Since we ourselves work as authenticated EN auditors (e.g. for TÜV Süd, BSI or SGS), we have in-depth audit knowledge and can thus largely anticipate the auditors' thinking and actions. This is how we save you from the audit risks and stumbling blocks. Whenever necessary, we intervene in the certification audit and translate the auditor's language into the language of your everyday operations.
By the way, we have a wide network of experts and will be happy to arrange an authenticated EN auditor for your certification audit. We make sure that the certifier does not assign you a "bean counter" but a "relaxed" pragmatist from your area. This reduces the excitement of your employees and colleagues in the audit. If the auditor comes from your region, you also save on travel costs.
Risk-free advice
We offer you the highest possible security for your invested consultant fee. If you are not satisfied with the performance, you can terminate our cooperation at any time at no additional cost.
If you would like to get to know our consultants and our approach first before working with us in more depth, start with an internal audit according to EN 9100:2018, which you can use as a GAP analysis at the same time.
We also work based on success – bonus-Malus systems are no problem for us. Too many complaints in the certification audit? This reduces your consulting costs. Contact us!
You want to ask one of our previous customers about our services? We are happy to arrange a telephone contact with a QM representative or a manager.
Capacities for their core task
The average QM representative is usually sufficiently busy in day-to-day business even without DIN EN 9100 / AS 9100 introduction. Focus your capacities on your business, we take care of your certification and the optimization of your quality management system.
Together with the support of AeroImpulse, you focus only on the essential aspects of standards implementation. Also, you can provide 2 – 3 students with whom we build the quality management system according to EN 9100:2018. Minimize your effort for informing and interpreting the standard. Avoid unnecessary measures in your quality management system.
We have many years of expertise in the aviation industry
We do not compromise on the competence of our consultants
We offer our customers individual and custom-fit QM solutions
We always keep the wishes of our customers in mind during implementation
We are professionals in methodology, project management and team leadership
We take care of our customers in a targeted manner, while being speedy & flexible
We offer support for all questions concerning the aviation standards of the EN 9100 series!
Implementation support before certification according to EN 9100:2018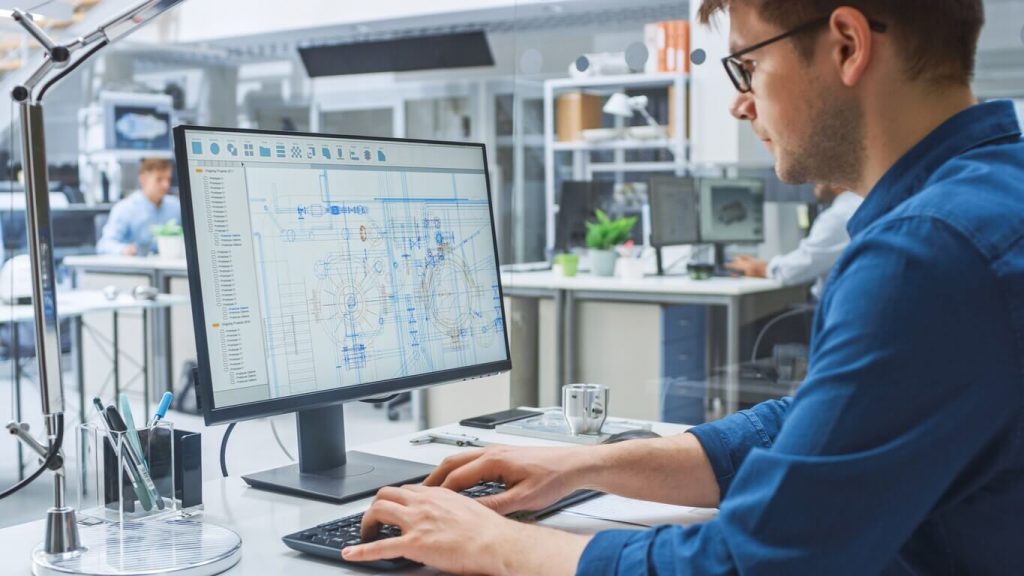 Support in obtaining EN certification
We support you in obtaining an EN certification according to EN 9100 and EN 9120. It is important to us that you can identify with the results of our support and do not get the impression of 0815 standard solutions. Therefore, our EN certification projects are carried out in partnership and ongoing exchange with the responsible persons of our customers. Our services in the course of implementing audit-proof, yet lean quality management systems according to EN 9100 or EN 9120 are (excerpt):
Overview of services
Creation or extension of a standard-compliant quality management manual (QMM)
Creation or extension of process instructions or process descriptions including the visualization of interactions
Establishment of an audit-proof system for supplier selection and supplier evaluation
Support in the establishment of industry-typical risk management systems or configuration management
Assist with operational monitoring through internal audits and prepare and participate in management review.
Preparation and training of employees in the area of quality management systems, IN EN 9100 or 9120 certification
Accompaniment of EN audits (previously tips and tricks for a successful audit)
Change from other standards (e.g. ISO 9001) to EN 9100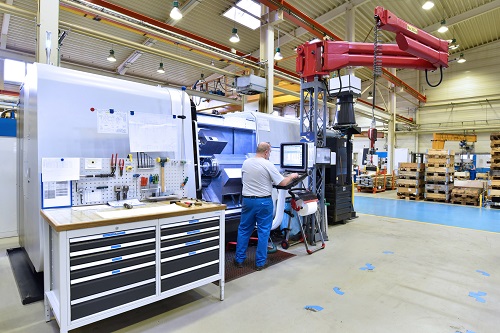 Certification change
Every year, numerous companies with a ISO 9001:2015 strive to change their certification to EN 9100:2018 for aerospace and defense due to customer requirements or portfolio expansions. Such facilities must comply with the International Aerospace Quality Group (IAQG) specifications or the delta requirements of EN 9100. Systematic target tracking via so-called PEARs, operational risk management, extended requirements for supplier monitoring, product safety and handling of parts of dubious origin are just some of the topics that must be taken into account in the course of an upgrade in ISO-certified quality management systems.
Companies that hold not only an ISO 9001, but also an IATF 16949 or an EN 13485, find such an extension comparatively easy. "Pure" ISO 9001 companies, however, must adapt their quality management system much more comprehensively, even though EN 9100 contains ISO 9001 in its entirety.
We support you in upgrading from ISO 9001:2015 or other standards to the aviation standard EN 9100:2018.
Overview of services
Free initial telephone consultation and clarification of expectations
The adaptation of your QM documentation and the expansion of your processes
Provide field-tested tools or forms (e.g., for goal tracking, enhanced risk management).
Implementation of the internal audit as well as preparation and participation in the management review
Preparation and briefing of staff in 9100 quality management systems and certification.
Accompaniment of the certification audit according to EN 9100 (beforehand tips and tricks for a successful audit)
Support in the processing of audit findings and their feedback in the IAQG OASIS database.
Auditing according to EN 9100:2018
Audit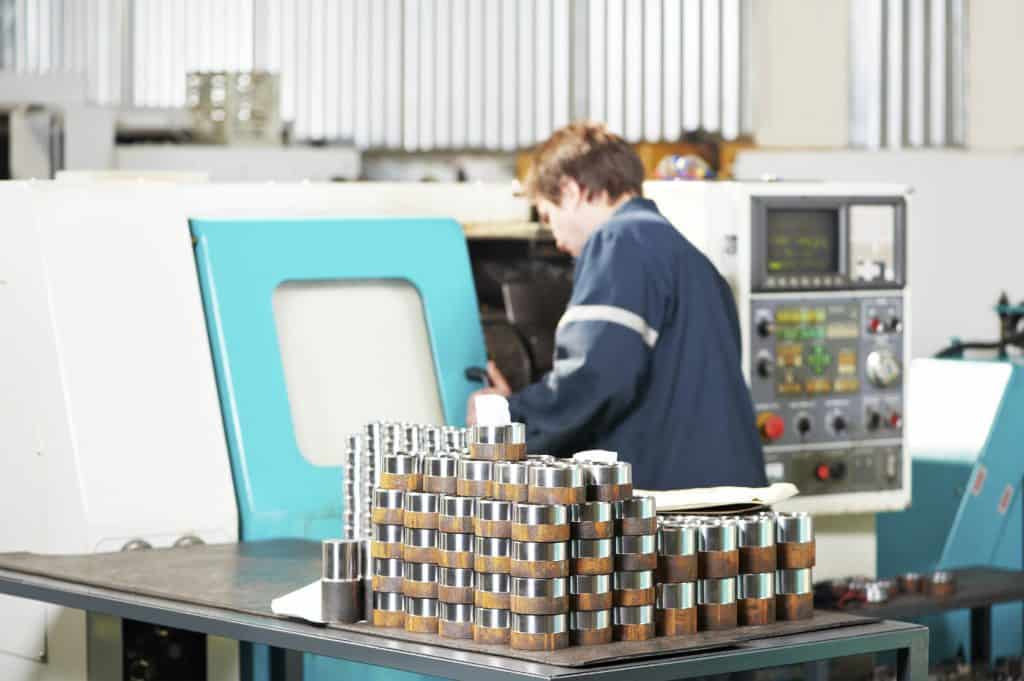 Audit is one of the fastest and most effective tools for identifying weaknesses in the QM system. However, the benefit stands and falls with the auditor qualification. Therefore, our audits are exclusively performed by experienced and IAQG authenticated EN 9100 auditors. Get an outside view into your organization for a few days. Use our audits not only to identify weaknesses, but also as a "dry-run" for the certification audit. Of course, we also conduct supplier audits and check or monitor the quality capability of your suppliers according to the highest standards.
Overview of services
Free initial telephone consultation and clarification of expectations
Coordinate audit scope, audit acuity, or other audit requirements.
Preparation of the audit plan taking into account any time restrictions of the daily business routine
Audit execution according to the requirements of EN 9100 including debriefing at the end and after each interview
Preparation of the audit report, which can also be used in your certification audit as recognized evidence of the performance of the mandatory internal audit
EN 9100:2018 trainings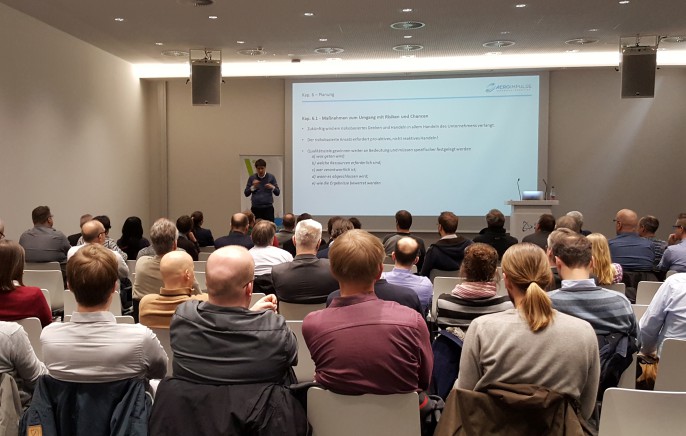 Practical training
AeroImpulse offers hands-on training for QM professionals or beginners. Our courses are conducted by trainers who have in-depth practical knowledge of the EN 9100 series.
We design the courses according to the needs of your company in terms of type and scope and depending on the target group. The most common trainings are one- or two-day EN 9100 implementation and transition trainings. All standards requirements are addressed in the training sessions.
Training focus
Fundamentals of aeronautical quality management
Design of support processes and working environment
Introduction to documentation and verification requirements
Requirements and structure of the performance processes in development, production and service provision
Introduction to supplier monitoring and control.
Quality objectives and process measurement
Implementation examples from practice through constant case studies and practical solutions
Some of our previous projects
"Dr. Hinsch supported us in the course of our EN 9100 initial certification as an extremely competent and sympathetic consultant. Together with him, we defined and modeled processes and, based on this, created complete standard-compliant specification documentation. In addition, Dr. Hinsch has developed tools as part of our interdisciplinary team and has constantly sensitized our QM staff to the requirements of the aviation standard during the transfer of know-how. His approach is characterized by pragmatic, business-oriented QM solutions. Thanks to his excellent support, we were able to achieve certification readiness within 9 months. Dr. Hinsch will continue to support us in the future with internal auditing and the further development of our QM system."
Heintje Wyczisk, Head of Quality Management, SIEMENS eAircraft
"Dr. Hinsch supported us as interim quality manager for several months. Mr. Hinsch is a conscientious and technically skilled QM professional. The cooperation was excellent. Since then, he has supported our group of companies in quality management issues."
Frank Rohm, Quality Management Director, E.I.S. Aircraft Gruppe
"We started down the path of EN 9100 implementation together with Martin Hinsch. He took us by the hand very well and made the solutions understandable to us without much ado or provided them himself straight away. He found the right language to bring less experienced QM colleagues along. Where necessary, he sometimes put pressure on us to get tasks done on schedule. In the end, we got through the initial audit without any deviations. We would do it the same way again with Martin Hinsch."
Harald Seeßle, Managing Director, S & G Zerspanungstechnik GmbH
"We have successfully completed the certification process. Thank you for the support. They helped us a lot!"
Jorge Herrera, Head of Service and Aftersales, M.Torres Deutschland GmbH
"Being confronted with formation of a new company and the build-up of a "green-fields" aviation composites factory was a daunting task for our project team to overcome. We sought and found the best possible specialist for establishing, implementing and auditing our quality management system. Dr Martin Hinsch led us successfully through the intricacies of the authorization process with uncompromising assuredness and professionalism. He has trained, motivated and enthused our staff to live and breathe quality day in, day out. We greatly appreciate his pragmatic, yet thorough approach and are thankful to him for his client centric service orientation and partnership. Dr Hinsch will surely continue to accompany our internal growth and expansion activities going forward."
Geoffrey Clarke, CFO, Elbe Flugzeugwerke GmbH
"Dr. Hinsch successfully got us through our EN 9120 initial audit. In accordance with our requirements, his solutions were pragmatic and suitable for everyday use – as much as necessary, as little as possible. Mr. Hinsch's performance convinced us and so he has been supporting us since then in the QM area in all plants of our group of companies, if required."
Timo Schlüter, QM representative Huwald Liebschner Unternehmensgruppe
"Martin Hinsch as a consultant led us to the EN 9120 certificate without any complaints and under the offered costs. The implementation was practical and aligned with the needs of our company size. In addition he can convey the contents of the standard to us in an understandable way in the course of our meetings. Therefore, we will continue to call on him for quality issues in the future!"
Kristian Braatz, Managing Director COMET.aero GmbH
"We have regularly relied on Dr. Martin Hinsch and his network for QM monitoring of our two corporate aircraft here in Nigeria as well as other flight operations issues for a number of years. He is a very reliable and competent partner on whose support we can rely. no longer want to do without."
Jörg Pitzen, Head of Plant and Equipment Department und Accountable Manager Flight Section, JULIUS BERGER NIGERIA PLC
Do you already know our books on technical aviation management?