Aviation Industry Basics Training ONLINE
Multimedia online training for design, manufacturing, maintenance and CAMOs.
A perfect overview
for new employees
In terms of rules, regulations and processes, the aviation industry is a world of its own. Newcomers to the industry always have to struggle to gain an overview here. With our Aviation Industry Basics training, we want to reduce this effort and time to quickly provide a first insight.
Our high quality web based training is designed for employees who are either new to the industry or have worked far away from the product and want to know more about the specific issues, processes and specifications in the aviation industry.
With our web-based training, you as a trainee or manager create flexibility through free time allocation and reduced working time requirements compared to classroom training due to compressed content transfer. For larger license volumes, you can also define the content from our chapter pool yourself or we can incorporate your own operational content.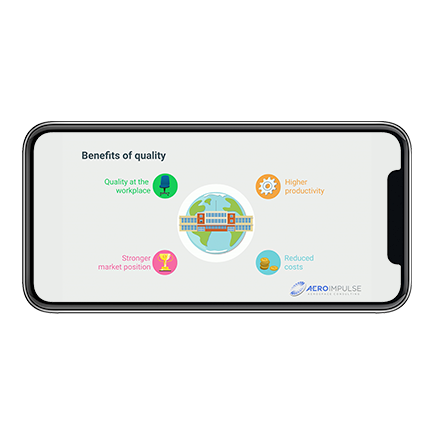 Core data
Duration: approx. 150 min, 12 Chapters
Simply press play, video-animierted E-Learning with professional voice-over
Automatic certificate sending after successful test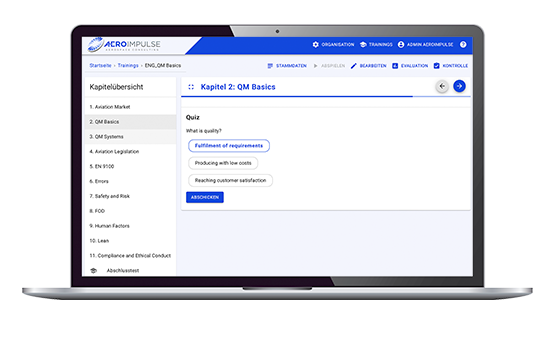 Target group
New employees in the aviation supply industry
Employees with little relation to the product
All employees in the introduction of aviation certifications / regulatory approvals.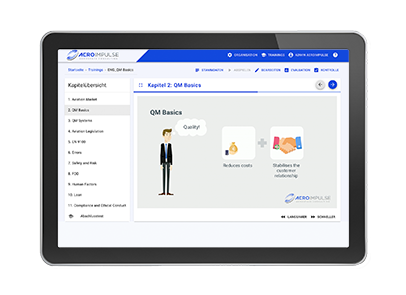 Structure
Provides insight into the market, major manufacturers and the supply chain
Contains all important QM aspects for (new) employees, e.g. air law, EN 9100, FOD, counterfeit parts, etc.
Knowledge quizzes between chapters
Multiple choice final test with 24 questions from a large question pool
Objectives
Knowledge transfer on the development of aeronautical QM systems
Creating awareness for errors and their consequences
Self-reflection for one's own role in the value chain
Fundamentals of ethics and compliance
Compliance with EN specifications, chap. 7.3
Are you interested in our QM Training ONLINE?
For more information or to obtain a non-binding quote incl. volume discount, contact:
To the contact form
Our aviation QM e-learning covers the requirements of chapter 7.3 of EN 9100 on awareness.
This training facilitates the induction of new employees, as only their own process documentation needs to be taught for the QM area. The rest covered by this e-learning.
Introduction aviation market
Basics
Quality management
QM-Systems
Aviation Legislation
EN 9100
Errors
Safety and Risk
FOD + counterfeit parts
Human Factors
Lean Management
Ethical conduct and compliance
Here's what our training participants say about our e-learnings:
Well organized, optimal duration
Very useful training course. Thanks so much to developers. Best regards.
The presentation is very clear and concise, Well done!
Informative course with gjood examples & clear descriptions/explanations.
This training is really well pre-pared and helpful also for other parts in life and not just in a work-ing environ-ment.
More trainings from our portfolio
Human Factors
Classroom Training?
Do you already know about our…
EASA Part 21J
Classroom Training?
Do you already know about our…
EN9100: 2018
Classroom Training?
Do you already know about our…
Do you already know our books on technical aviation management?