What are production organisations according to EASA Part 21G
Production activities in the aerospace industry show insignificant differences from other high-tech industries in terms of basic manufacturing processes and the flow of value creation. However, production in aviation is characterized by a high density of legal requirements.
Regarding the organization of service provision, the complex process of aircraft production shows a clear focus on core competences. While Original Equipment Manufacturers (OEMs) are focused on assembly as much as possible, systems, components, and parts are supplied by specialist suppliers. The concept of a comprehensive outsourcing – even of core elements – is therefore not specific to the well-known automotive industry.
Nevertheless, there are some legal specifics that may play a role in production of aeronautical products. Because the further the value added has progressed, the sooner a manufacturer needs an official approval according to EASA Part 21G. This applies in any case for the production of aircraft and engines, but often also for parts and appliances.
Production according to EASA Part 21G may only be carried out based on applicable design data provided by a Part 21J design organisation. Aeronautical products should therefore not be designed or modified by approved 21G organisations on their own – they always need necessary technical data of a Part 21J design organisation.
Find out now about our services for EASA Part 21G
We support you in training, auditing and safety management according to EASA Part 21G.
Requirements for production organisations according to EASA Part 21G
For production of aerospace products, an organisation must have demonstrated its competence. For European companies this is checked by the EASA or hte  responsible National Aviation Authority (NAA) in the name of the EASA. Approval is limited to a defined scope of activities.
An officially approved production organisation must demonstrate that it has implemented and maintain a quality system. Such a system should ensure that production is executed under controlled conditions. The organisation must always be able to produce aeronautical products in compliance with the relevant approved production data and to put them into circulation in safe condition. This can only succeed if the organisation has transparent and comprehensive operating structures and processes. For this reason, quality system and the associated procedures must be documented
Requirements for production organisations are defined by EASA in the Implementing Rule Initial Airworthiness in Part 21 Subpart G (in short: Part 21G). These requirements are specified by supplementary interpretation material (Acceptable Means of Compliance – AMC – and Guidance Material). Accordingly, an officially approved quality system in production must have at least the following individual components:
a comprehensive quality management system for processes, procedures, documentsand resources
an independent function (staff position) of quality management
a comprehensive system for the acceptance of the products (quality assurance)
the involvement of suppliers, especially if they do not hold an own production approval.
A detailed description of the requirements can be found in Part 21G or here …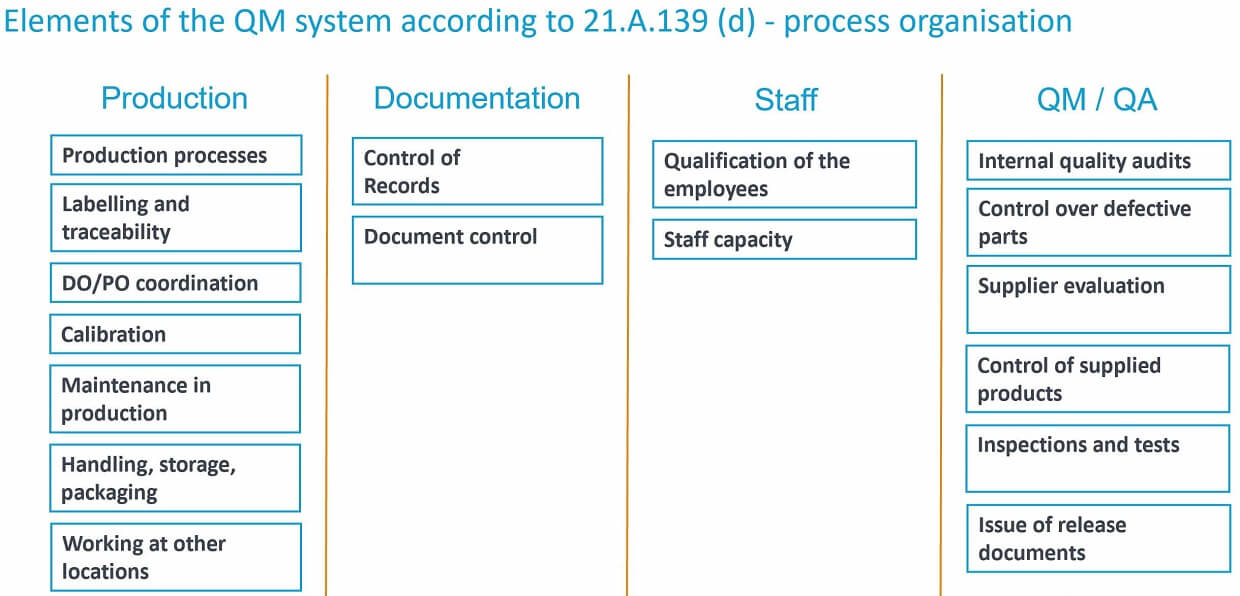 The process of operating approval according to EASA Part 21G
Often companies that are seeking production approval under Part 21G have already gained industry experience before application. Often, the need for a 21G approval arises from cooperation with a large aviation multinationa
Before first contact to the NAA, the organisation msut set up an 21G project and the responsible QM manager should appointed as project manager. At the same time, the position of the Accountable Manager is to be determined and certifying staff selected. In addition, the requirements of Part 21G must be studied to get an idea of the upcoming challenges.
With such solid preparation, contact can then be made with National Aviation Authority (NAA) or the EASA. In this case, a completed application form (EASA Form 50 and Form 4) must be submitted in advance. In the first meeting the applicant then is being informed about process, costs and important requirements.
As far as not yet done, the development of an operating manual (Production Organisation Exposition – POE) with all process descriptions will follow. An intensive study of the EASA Part 21G as well as AMC and Guidance Material is indispensable for this. Especially for this activity, an experienced aviation consultant provides valuable support. After months of document preparation, the finished documentation (POE, procedural instructions, organization chart, forms, layout of production facilities, checklists, etc.) is sent to the NAA for review.
After checking the documents, the EASA or NAA informs about necessary correction, which can sometimes only be implemented after several iterations. As soon as the documentation fully meets the requirements, the NAA carries out a pre-audit. This usually results in further adjustments. Finally a multi-day main audit is following. NAA auditors, check conformity with Part 21G requirements in detail. Finally a multi-day main audit is following. NAA auditors, check conformity with Part 21G requirements in detail. Again, usually numerous audit-findings are to be expected. Once these have been processed, the NAA issues the certificate of approval. The whole process usually takes about 2 years.
Do you need support in manufacturing according to EASA Part 21G?
Even though companies may have prior aviation experience, e.g. in the context of an extended workbench, the involvement of an aviation-experienced consultant is usually of indispensable value. Especially for organisations that are not primarily active in aviation, it is almost impossible to obtain an approval without support from an expert. Not only is aviation industry expertise missing, but there is also a lack of know-how for the interpretation and operational implementation of legal requirements. It is also important to develop an impression of the way of thinking and monitoring (in the sense of aviation safety culture) of the auditors or the NAA as a monitoring body. An approval as an official production organisation according to Part 21G is yet another league than an EN 9100 certification.
Do you already know our books on technical aviation management?