The most important facts about the aviation standard EN 9100 /AS 9100 in brief
EN 9100 is a standard for design, development, production, assembly and maintenance for aerospace and defense operations. Its characteristic feature is a focus on the requirements of this industry, e.g. in the area of documentation and verification, traceability, process stability, as well as supplier control and supplier monitoring.
In order to be certified according to EN 9100, it is not primarily decisive how high the proportion of operational value added is in aerospace or defense. The important factor, however, is that the business focuses on development, manufacturing and/or service provision. If it is a maintenance-focused operation or a distributor, certification to the other two aviation standards, i.e. EN 9110:2018 for maintenance organisations or EN 9120:2018 for distributors, is more likely to be considered. EN 9110 tends to include more requirements, EN 9120 fewer, than the EN 9100 aviation base standard.
The aerospace standard is available as the EN 9100:2018. This editions is identical and therefore equivalent to the American AS 9100 of the Society of Automotive Engineers (SAE) and the JISQ 9100 of the Japanese Aerospace Quality Group. As of 2018, there are approximately 6500 operating sites in Europe with EN 9100:2018 certification, and nearly 20,000 worldwide.
Do you already know our EN 9100 E-Learning?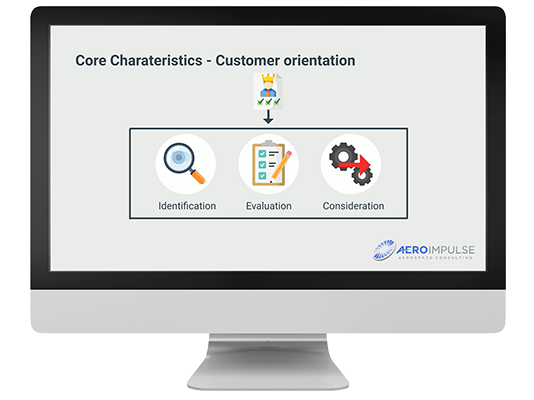 180 Minutes (Initial) or 90 min. (Refresher)
Video animated clips with sound
Certificate is sent automatically after passing the test
Saves working time compared to 1-day face-to-face training
Structure analogous to the standard
What are the core requirements of EN 9100:2018?
The basis of EN 9100:2018 is the ISO 9001:2015. In this respect, the aerospace standard is not only based on the so-called High Level Structure, i.e. the uniform structure of ISO management system standards. EN 9100 contains all the requirements of ISO 9001, it even includes them. Therefore, the aviation standard also aims at an efficient QM system. This must be aligned across all core processes, i.e. not just audit and monitoring activities. The standard covers all processes, hierarchies and phases of service delivery, which is done systematically according to the Plan-Do-Check-Act (PDCA) cycle. The main requirements of ISO 9001 therefore apply to the following areas:
Knowledge of internal and external operational influencers and interested parties,
Establish and maintain a process-oriented quality management system, including knowledge and management of operational risks and opportunities,
Management's responsibility and authorisations
Determination of quality policy and objectives with consideration of customer satisfaction
Staff qualification, operational knowledge, awareness including the definition of responsibilities and authorities.
Systematic planning and management of service delivery, taking into account resources and requirements for documented information,
Systematic collection and integration of customer requirements,
Planning and execution of design work and product or service development,
Select, monitor and manage external vendors and evaluate and audit supplied products and services,
Planning and execution of service provision including its release and post-delivery activities,
Process and product monitoring and measurement, and analysis of collected data,
Measures of error correction and risk minimization as well as continuous improvement
Did you know?
Companies certified to EN 9100:2018 can always ask their certification body to issue the ISO 9001:2015 certificate in addition to the EN certificate.
Find out now about our services for EN 9100
What are the aviation specifics?
As described above, EN 9100:2018 fully incorporates ISO 9001:2015. The supplementary aerospace industry requirements are printed in bold italics in the norm text, so that they stand out clearly from the ISO 9001 components. Major additions to EN 9100:2018 compared to ISO 9001:2015 are, for example, requirements for:
Configuration Management,
product safety and to the handling of counterfeit parts,
the validation of special processes and to critical units,
operational risk management,
the development requirements that go well beyond the ISO 9001 specifications, especially in the area of verification and validation,
the document and evidence management,
the identification and traceability,
supplier monitoring and supplier communication,
the process and customer satisfaction measurement as well as the tracking of target achievement via the so-called PEAR forms.
The aviation-specific extensions bring the EN closer to EASA's aviation regulations (particularly the Implementing Rules to Part 21 and Part 145), although one clearly difference remains. While the EN 9100 standards focus primarily on customer satisfaction and process orientation, the EASA regulations keeps the eye only towards flight and product safety.
Where are the challenges?
In terms of content, EN 9100 / AS 9100 remains predominantly unspecific. System standards define what has to be implemented in the end, but not how processes and work steps have to be designed in detail. No tools, instruments or implementation methods are specified, only output requirements. Management system standards leave the detailed content of the process design, i.e. the choice of means, to the companies.
As a newcomer to the industry, it is costly to obtain certification without expert assistance. Not only is there often a lack of aviation industry expertise, there is also a lack of know-how for the interpretation and operational implementation of the standards requirements. It is also difficult to deal with the specifications for process measurement in the course of the Process Effectiveness Assessment Reports (PEAR), which are not described in EN 9100:2018, but only in EN 9101. Last but not least, companies seeking certification in aerospace and defense must learn to assess the certification auditor's way of thinking and testing on their own, without external support. However, this experience is only gained during the audit, so that many deficiencies often have to be eliminated within a short period of time. Due to the numerous industry and standard specifics, it is almost essential for companies wishing to be newly certified to an aviation standard to engage the services of a consultant with aviation experience.
Do you need assistance with AS 9100 / EN 9100 implementation?
Why do customers require EN 9100 / AS 9100 certification?
In the aerospace industry, certification to one of the standards from the EN 9100 series is mandatory for establishing supplier relationships. The aerospace standard are not only highly attractive for the major players in the industry, i.e. primarily the Airbus and its 1-tier suppliers, i.e. the direct suppliers. But this also applies for companies with EASA approvals.
In case of a certification acc. to EN 9100, EN 9110 or EN 9120, these companies demonstrate the quality capability of their suppliers to their aviation authority or their own customers on the basis of a uniform QM system. At the same time, the companies can reduce their expenses, especially for on-site monitoring in the form of supplier audits. For them, this results in the advantage of partially outsourcing their supplier monitoring. The EN certificate serves as an important proof of the supplier's own quality capability to customers.
Certification audit procedure
Information on the certification audit process is presented separately in this article.
Origin of the EN 9100 series of standards
Based on the ISO 9001 standard, several industry-specific standards developed in the late 1990s, taking into account complementary requirements of the respective industries. In addition to EN 9100 for the aerospace industry, for example, ISO 16949 for the automotive industry and TL9000 for telecommunications have also emerged. These niche standards usually arose from quality agreements that dominant market players (e.g., Airbus, Telekom, and automobile manufacturers, respectively) demanded of their suppliers.
The development was favored by the fact that, based on such individual agreements, industry associations also issued quality standards parallel to or supplementary to ISO 9001. In the 1990s, for example, the Airbus quality specifications had a significant influence on the quality guidelines issued by the German Aerospace Industries Association (BDLI) for its members long before EN 9100 was first published.
In addition, the publication of the American AS9100, which is equivalent to EN 9100, gave considerable impetus to the publication of a separate aviation standard at European level shortly before the turn of the millennium. As a direct result, EN 9100 was published in 2003 by the European Committee for Standardization (CEN) as the first certifiable aerospace and defense standard for design, development, production, assembly and maintenance. This was followed in 2005 by EN 9110 for maintenance companies and EN 9120 for distributors and warehouse keeper. In 2009 and 2016, all three aviation standards were again significantly revised.
This standard is overseen by the International Aerospace Quality Group (IAQG) and the European Aerospace Quality Group (EAQG), which represents European interests.
Do you already know our books on technical aviation management?