Basic knowledge for EN 9100 preparation and later certification
Building on the ISO 9001 standard, several industry-specific standards with supplementary requirements of the respective industries developed in the late 1990s. In 2003, for example, EN 9100 was published as the first certifiable aerospace and defense standard for design, development, production, assembly and maintenance.
This was followed in 2005 by EN 9110 for maintenance companies and EN 9120 for dealers and stockists. In 2009 and 2010, all three aviation standards were again significantly revised. In 2016, another major revision of standards was published. Currently valid is EN 9100:2018 , which rests on the foundation of EN ISO 9001:2015. Incidentally, the process outlined here also applies to companies seeking certification for distributors and stockists in accordance with EN 9120:2018.
How does the aviation standard EN 9100:2018 differ from ISO 9001:2015?
EN 9100 is fully consistent with ISO 9001. The supplementary requirements of the aerospace industry are shown in bold and italics in the 9100 standard text and are thus clearly distinguishable from the classic ISO 9001 components. Essential additions to EN 9100 compared to ISO 9001 are, for example:
Operational Risk Management,
Configuration Management,
more detailed requirements for supplier monitoring,
higher requirements for verification and validation,
Support after delivery,
Process measurement and tracking of quality objectives via the so-called PEARs.
Do you already know our EN 9100 E-Learning?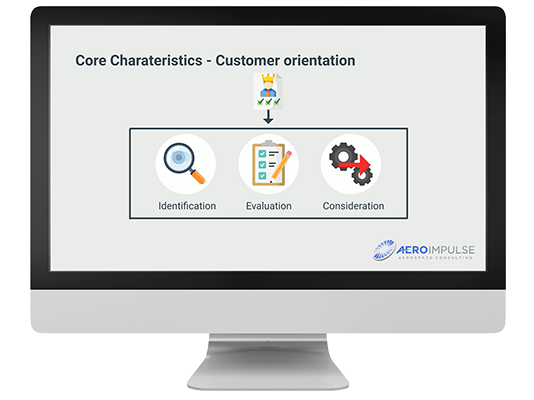 180 Minutes
Video animated clips with sound
Certificate is sent automatically after passing the test
Saves working time compared to 1-day face-to-face training
Structure analogous to the aviation standard
Why is certification according to EN 9100:2018 necessary?
When companies from the aerospace or defense industry in Germany decide today to obtain certification in accordance with EN 9100:2018, this is generally not done voluntarily. In most cases, the decision in favor of introducing the aviation standard comes as a result of pressure from an important customer. With such a request, the customer then pursues a clear goal: by forcing its suppliers to certify, they themselves become responsible for proving their quality capability. The certificate issued on such a basis then serves as proof to the customer's own customers. In this way, large companies in particular can reduce the amount of time and effort they spend on on-site monitoring in the form of supplier audits. So they are outsourcing their supplier monitoring.
However, for suppliers under pressure, especially at the lower levels of the supply cascade, certification need not be synonymous exclusively with additional costs. Many companies, especially the smaller ones, systematically deal with the topics of quality management, process orientation as well as risk management and supplier monitoring for the first time within the scope of the EN 9100 preparation and the first certification. The standard can therefore help to improve structures of operational value creation as well as interfaces to the customer. In this respect, certified companies often have a more pronounced process and quality awareness.
Find out now about our services for EN 9100!
We support you with the initial certification as well as with auditing and training for the aviation standard.
What are the first steps in EN 9100 preparation and later certification?
Management must first be clear about the operational purpose and goals of certification. Does the introduction of EN 9100:2018 only serve to obtain the certificate or should a holistically functioning QM system be established. To estimate the approximate effort required, you can download our EN 9100 checklist free of charge on the right-hand side of this website.
The next step should be to select an independent 9100 consultant with experience in the aviation industry. If the certification is to be obtained by "on-board means" without external support, the selection of an auditor (or a certification company) who enjoys the trust of the organization starts right away. In a personal pre-information meeting, all further activities that are ultimately necessary for a successful audit are roughly determined.
Who certifies EN 9100 (examples)?
What are the first operational activities?
Right at the beginning of the EN 9100 preparation, a quality management representative (QMR) should be appointed, if not already in place. At a minimum, this should address the content of the targeted standard. In addition to the text of the standard itself, there are a number of references on the Internet and, above all, the book Guideline for EN 9100:2018, which provides assistance in creating and setting up a quality management system for the EN 9100 series of standards in german. Seminars are also offered by some certification companies, which can be helpful for obtaining an EN certification.
The requirements of the targeted standard should be analyzed intensively at the outset. A comparison list (what is available, where is there still a need for action) must be used to determine what effort is still required in detail to ensure compliance with the standard requirements. It is also advisable to commission a pre-audit by an authenticated (approved) EN auditor to determine the maturity level and certifiability of the quality management system. If there are still major gaps and little operational aviation experience, a consultant should also be brought in on a daily basis for EN 9100 preparation.
After completion of the internal preparations, the official certification process begins according to the illustration in Fig.
You need support around the EN 9100?
Who finds certification easy, who finds it difficult?
As a rule, larger medium-sized companies and large enterprises, which have sufficient technical, human and infrastructural resources, have fewer problems implementing the requirements of the 9100 series of standards. In contrast, smaller companies can implement the required specifications more quickly due to their flexibility, but they very often lack the personnel and technical prerequisites required to set up the quality management system.
What are the external costs of EN certification?
By the way, the costs for the certification audit according to EN 9100 or EN 9120 strictly depend on the size of the company (employees, number of locations) and on possible exclusions (e.g. development). The quality of the EN 9100 preparation therefore does not play a direct role. Only the daily rates and other costs differ slightly between the certification companies. For a company with 46 – 65 employees and one location, including some fees, an initial cost of approximately 8,000 EUR – 10,000 EUR (6 audit days) can be expected. Companies without development and dealers or stockists according to EN 9120 can calculate with somewhat lower costs.
By the way, offers usually do not include the costs for only one (initial) audit, but always for a certification cycle of three years. Thus, certification bodies always provide for four audits: the Stage I audit (1 day in the case of the above example), the first main audit or Stage II audit (5 days), and two less extensive surveillance audits (2.5 days each).
During EN 9100 preparation for initial certification as well as before recertification audits according to EN 9100:2018, an external consultant can contribute valuable know-how and at the same time accelerate the implementation process. This is especially true for small and medium-sized businesses that have little experience or capacity in creating a quality management system. Each company must decide for itself whether a consultant is generally necessary, whether he should accompany the entire preparation phase or whether assistance should only be called upon on a daily basis for larger gaps in company knowledge. It would also be conceivable to buy in the consultant only at the beginning and end of the preparation phase as an auditor to assess the operational certification capability. However, if a consultant is brought in, care should be taken to ensure that he or she has explicit experience with quality management systems in the aerospace industry, ideally as an authenticated EN 9100 auditor. The support of an ISO 9001 consultant has already led to many a nasty surprise in certification audits.
You would like to know how a certification audit according to EN 9100:2018 works? Then it continues here.
Do you already know our books on technical aviation management?