What are EASA Part 145 maintenance organizations?
Maintenance in aviation includes all activities of overhaul, repair, changes / modifications as well as inspections and testing on aircraft, engines and components.
This activities are also subsumed under Maintenance, Repair and Overhaul (MRO). In the EU this work may only be carried out by organisation that have been approved by the European Aviation Safety Agency (EASA) to maintain aeronautical products, parts or equipment in accordance with approved documentation. In order to obtain such an approval according to EASA Part 145, the company must have demonstrated its capability to the EASA or the Europes National Aviation Authority (NAA).
Do you already know our EASA Part 145 E-Learning?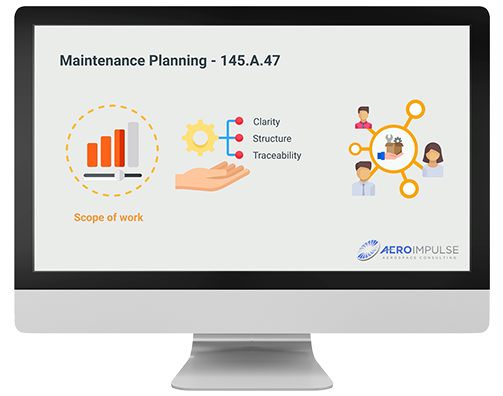 180 Minutes (18 chapters)
Video animated clips with sound
Certificate is sent automatically after passing the test
Saves working time compared to 1-day face-to-face training
Incl. all requirements of EASA Part 145
Requirements for maintenance organizations according to EASA Part 145
The requirements for maintenance organizations are defined in the Implementing Rule Continuing Airworthiness, Part 145. EASA publishes further implementation instructions and interpretation material in Acceptable Means of Compliance (AMC) and Guidance Material.
A core requirement for an EASA-approved maintenance organization is the ability to implement and maintain a quality system. Such a system should ensure that maintenance takes place under controlled conditions. To this end, the company must always be in a position to maintain aeronautical products in compliance with the relevant approved maintenance data and to place them on the market in a safe condition for operation. This can only succeed if the organisation has transparent and comprehensive operating structures and processes. For this reason, quality system and the associated procedures must be documented.
The exact requirements for maintenance organizations are defined by EASA in the Implementing Rule Continuing Airworthiness in Part 145. These requirements are specified by supplementary EASA documents (Acceptable Means of Compliance – AMC – and Guidance Material). According to this, an officially recognized quality system in maintenance must have the following individual elements in particular:
a comprehensive quality management system for processes, procedures, documentsand resources
an independent function (staff position) of quality management
a structured, traceable qualification system, in particular for certifying staff; if applicable, in accordance with the requirements of EASA Part 66,
a comprehensive system for the acceptance of the products (quality assurance)
the involvement of suppliers, especially if they do not have their own maintenance approval.
Aeronautical products must not be maintained "on one's own". Maintenance in the sense of EASA Part 145 may only be performed on the basis of approved maintenance data. In this respect, not least, there must be a cleanly documented process for providing and updating the technical maintenance specifications. This is normally provided by an EASA Part 21J design organisation.
It should be noted that official maintenance approvals are always dependent on the company's own range of activities (Scope of Approval) and are very widely limited down to the component or part number level. In rough categorization, a distinction is made between the
A-Rating: Aircraft Maintenance,
B-Rating: Engine maintenance, incl. Auxiliary Power Units (APUs),
C-Rating: Component Maintenance,
D-Rating: Non Destructive Testing – NDT
Find out now about our training courses on EASA Part 145
We support you with the introduction, auditing and safety management according to EASA Part 145.
The EASA Part 145 operational certification process
Organizations seeking for an Part 145 maintenance approval typically have industry experience before applying to the Aviation authority. Often, the need for 145 certification arises from working with a major aviation company. Nevertheless, the process for EASA Part 145 regulatory approval typically takes one to two years and usually requires significant adjustments to operational QM documentation.
Prior to initial contact with the EASA (or NAA), the 145 project should be set up as a project and a responsible QM manager should be appointed as project manager. In parallel, the position of Accountable Manager should be defined and the subsequent certifying staff should be selected. In addition, study the Part 145 requirements is highly recommended to get an idea of what to expect from the operation.
With such solid preparation, contact can then be made with EASA or the NAA. A completed application form (EASA Form 50 and EASA Form 4) must be submitted in advance. The offical process start with an initial meeting to provide information about the procedure, costs and important requirements.
If not already done, this will be followed by the preparation of an QM Manual (Maintenance Organization Exposition – MOE) with all process descriptions. For this, an intensive study of EASA Part 145 as well as AMC and Guidance Material is indispensable. This is precisely where an experienced aviation consultant provides valuable support.
After months of document preparation, the completed documentation (MOE, procedural instructions, organization chart, forms, plant floor layout, checklists, etc.) is all sent to the authority for review.
After checking, the authority communicates necessary correction requirements, which, however, can sometimes only be fulfilled after several iterations. Once the documentation fully complies with the requirements, the authority conducts a pre-audit. This usually results in further adjustments. Finally a multi-day main audit is following. EASA / NAA auditors, check conformity with Part 145 requirements in detail. Finally, the main audit, which lasts several days, takes place, during which auditors put the operation and documentation through their paces and check for conformity with the requirements of EASA Part 145. Again, usually numerous audit-findings are to be expected. Once these have been processed, the NAA issues the certificate of approval.
Especially for organisations that are not primarily active in aviation, it is almost impossible to obtain an approval without support from an expert. But even if a company has previous aviation experience, e.g. in the context of an extended workbench, the involvement of a consultant with aviation experience is of indispensable value. In most cases, there is not only a lack of aviation industry expertise, but above all a lack of know-how in the interpretation and operational implementation of legal and regulatory requirements. In this context, it is also important to develop an impression for the way of thinking and auditing (in the sense of aviation safety culture) of the EASA auditors  as a supervisory body. Indeed, Part 145 maintenance organization approval is significantly more demanding and formal than EN 9100 certification.
Do you need support with maintenance according to EASA Part 145?
Do you already know our books on technical aviation management?