Learning from mistakes with human factors knowledge
To err is human and therefore people make mistakes. Unfortunately, all the time. That will never change. Nevertheless, we should not resign ourselves to it. Instead, appropriate measures should be taken to minimize error rates. In many industries, this is primarily a question of safety. However, this is also a cost aspect and thus a question of long-term organizational success! In this respect, it is worth taking a closer look at the causes of errors in general and human errors in particular.
Starting point – increasing complexity
The complexity of processes and tasks is steadily increasing in everyday operations. This also increases the risk of errors. Usually, similar error patterns and sources can be identified in companies regardless of the industry. Many incidents occur entirely due to operational circumstances. They were causes of errors of an interpersonal nature or in the interaction between man and machine or systems. Frequently, similar error patterns and sources can be identified in companies regardless of industry. Since the Human Factors term is a collective term for all psychological, cognitive and social influencing factors that act between human and technical systems, it is not surprising that the causes of Human Errors are often known to everyone. In daily practice, however, they are pushed into the background. This should not and need not happen.
Do you already know our Human Factors E-Learning?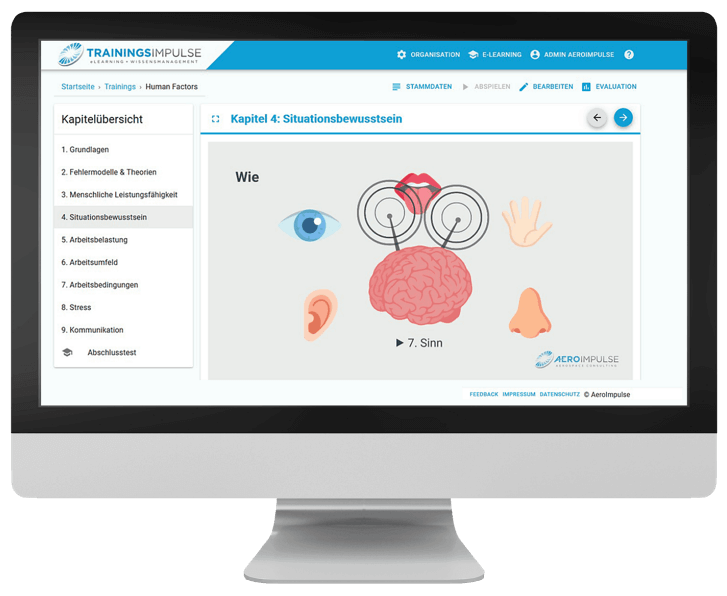 210 Minuten (Initial) or 90 min. (Refresher)
Video animated clips with voice over
Automatic certificate sending after successful test
With all requirements of EASA Part 145
Suitable for other industries
Eigenes Training für die Medizin, Infos hier
Causes of Errors – Reasons for Human Errors
However, the causes are rarely due to a lack of competence or its insufficient application. It is always the human capability with all its abilities and limitations (Human Limitations) that has an impact on action in the relationship between man and man and man and machine. In the complex structures of service provision with a high division of labor, the actors lack systemic information. Often, leadership cannot always be provided where it is needed – yet decisions must be made all the time. Coupled with personal stress, time pressure, social norms, and lack of teamwork or communication, this is where employees reach the limits of their capabilities. Errors occur, product and customer are no longer at the forefront of performance goals. This is where the Dirty Dozen concept helps. It is a listing of the twelve most common reasons for human error.
The "Dirty Dozen" – the 12 most common human errors
To this end, Gordon Dupont, an employee of the Canadian Aviation Agency, evaluated the most common errors in aviation in the late 1970s and summarized them into a framework of ideas. If these twelve types of error could be eliminated or brought under control, a very high percentage of human factors-related incidents and accidents could be avoided in day-to-day operations. The following list shows these 12 biggest human hazards (Dirty Dozen) that can result in faulty workmanship.
The Dirty Dozen:
Lack of communication
Lack of Teamwork
Lack of attention
stress
Lack of resources
Fatigue & exhaustion
Social norms
Pressure
Lack of skill & knowledge
Lack of enforcement ability
Complacency
Distraction (due to private problems or suboptimal work environment)
Many Human Factors oriented measures will sound familiar. Some you may dismiss as truisms. But you must also implement these measures if you want to reduce errors caused by human factors. In daily practice, implementation requires hard work on oneself and the team, especially when it comes to the self-evident.
Do you need Human Factors training in person?
Starting points for avoiding human error
Against the backdrop of the ever stronger interlinking of people and technical systems on the one hand and an increasing complexity of tasks on the other, the examination of human factors is thus gaining a steadily growing role. In order to reduce the consequences of technical and human errors and thus contribute to an improvement in the safety and performance of the entire organization, corresponding activities should be geared towards this:
align the work environment with the needs of the employee,
Distribute tasks and responsibilities between employees & between man and machine clearly and transparently
Identify the risks at the interfaces and make them visible,
Apply tools that minimize the occurrence of Human Errors.
Learning from aviation experience
Since incidents in the cockpit or on the aircraft itself can have dramatic consequences, aviation has decades of experience in managing these latent risks. In aviation, the structured examination of human factors began in the early 1980s. Initially, the focus was exclusively on safety in flight operations. It was not until a few years later that it was realized that in other areas of aviation, too, the risk of flight incidents and accidents could be reduced through a heightened awareness of human factors.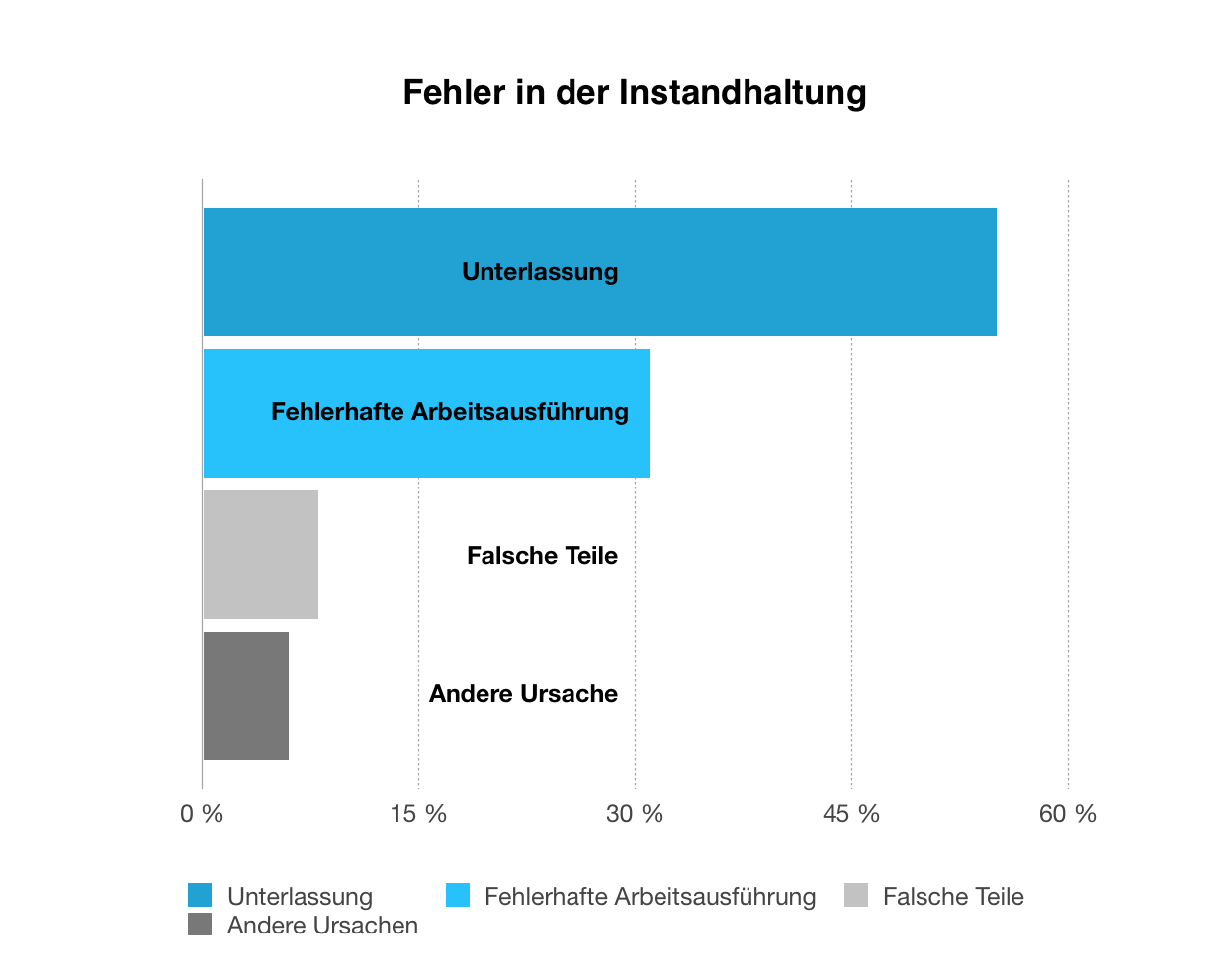 Find out more about our Human Factors services now!
We support with many years of experience in the field of consulting – training – e-learning!
This has led to the introduction of mandatory human factors training for a large proportion of aviation personnel (crews, mechanics, engineers, ATC, etc.). The aim of these trainings is to address the findings that contribute to the understanding of human errors among the people involved at all levels of the company. The aim of these trainings is to address the findings that contribute to the understanding of human errors among the people involved at all levels of the company.
Error culture – sustainably eliminating human errors
An important component in the discussion of human factors is also the corporate error culture. The goal is to change the minds of those involved. In many organizations, systematic error reflection still leads a shadowy existence. The focus is on the subsequent elimination of errors and less on the future prevention of the same or similar occurrences. However, this thinking is expensive. It leads to errors being corrected, but not their causes. The recurrence of the same or similar errors is thus only a matter of time. Particularly in companies in the aviation industry, there must be a working atmosphere in which it is permissible to openly address and discuss errors without "pointing fingers" at people who have behaved incorrectly. A punitive error culture involves the risk that errors will be concealed and covered up, and in the worst case even repeated due to a lack of communication.
Thus, a distinctive error culture has developed in aviation with effective tools and methods aimed at identifying errors and incidents and permanently preventing or controlling them. At the same time, these tools are intended to heighten error awareness and achieve learning effects among employees. Errors are considered to be a gain in knowledge.
Do you already know our books on technical aviation management?